Good Practices in digitalization of the food value chain - Regions4Food Study Visit in South Ostrobothnia
Regions4Food is an Interreg Europe -project concerning digitalization in the food value chain. Key element are the regional good practices shared by project partners. In the beginning of September, Seinäjoki University of Applied Sciences was in turn to host the Study Visit. Visitors were partners and stakeholders from Spain, Italy, France and Hungary, group of altogether 13 people.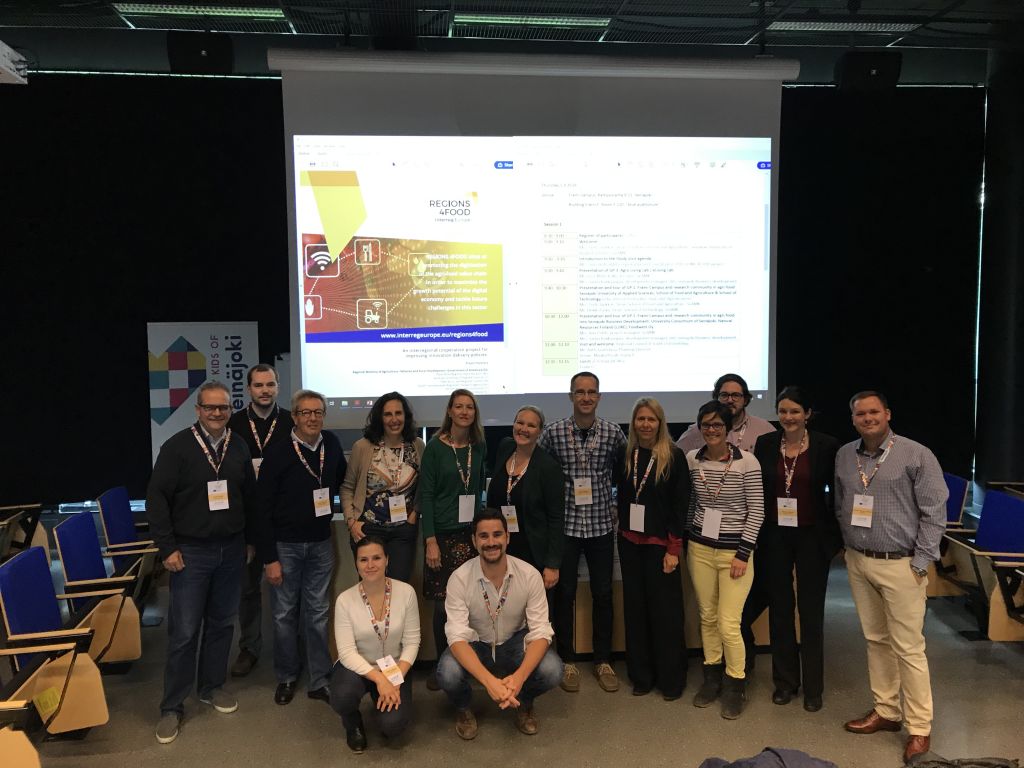 The Study Visit program took 1,5 days, and included five different Good Practices (GP's) presented from different angles. The participants were welcomed to South Ostrobothnia and Seinäjoki University of Applied Sciences in Thursday morning in the beautiful Frami Campus at Seinäjoki. Mrs. Terhi Junkkari, Dean of School of Food and Agriculture, SeAMK welcomed the quests to the Food Province of Finland. After a short introduction to the Study Visit agenda by Mrs. Soila Huhtaluhta, regional project coordinator of REGIONS 4FOOD project, SeAMK, it was time to get to know the GP's.
Agro Living Lab & eLiving Lab
First was presentation of Agro Living Lab and eLiving Lab –projects by Mr. Jussi-Matti Kallio, lecturer from SeAMK and Mrs. Sanna Kankaanpää, development manager from Into Seinäjoki Business development. These EARDF projects are based on cooperation of farmers and local agrotechnology companies, and represent the technical dimension of GP's. In the GP, a network of farmers was included in the development and testing process of agrotechnology machinery and digital solutions, to benefit both parties and lead to better usability of new technologies. Jussi-Matti and Sanna described the projects, outcomes and experiences of it, and the quests were active to ask questions as hoped, to get a good picture of the GP.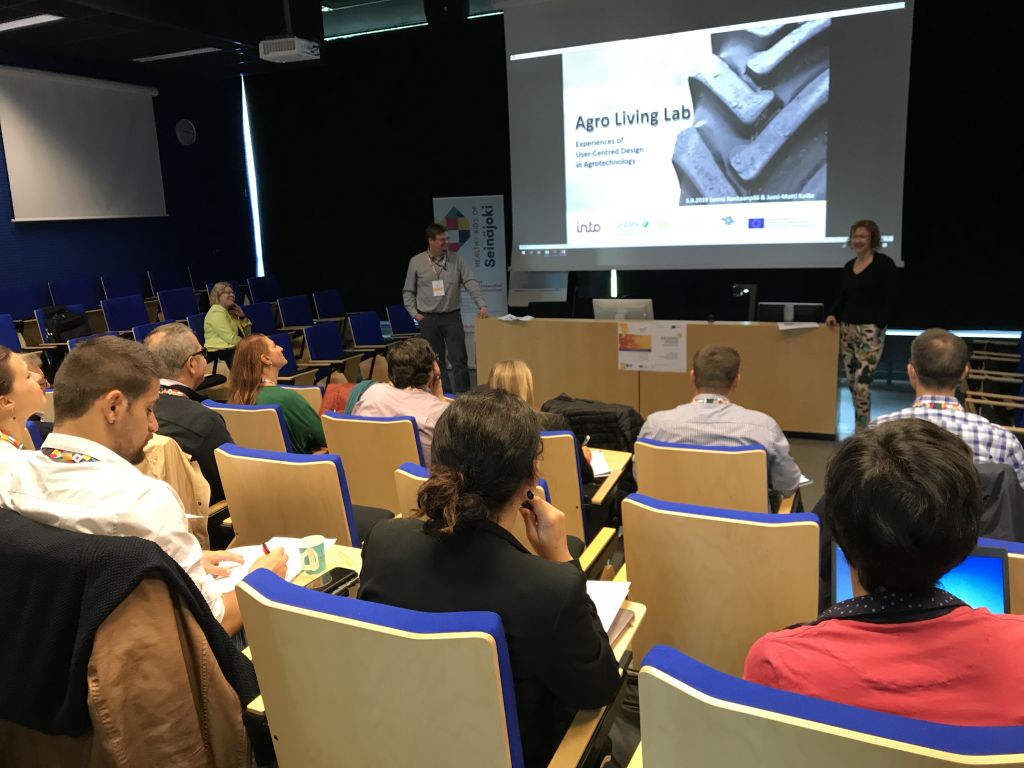 Frami Campus and research community in agri-food
Next we started the presentation of next GP: Frami Campus and research community in agri-food. This includes key actors of agri-food sector in higher education and RDI, who are committed to working together in tight cooperation to strengthen the local agri-food sector cluster, and make the region visible as the Food Province of Finland. First, we got to visit some of the laboratories and learning environments of Seinäjoki University of Applied Sciences: Digital Factory of School of Technology, just opened Frami Food Lab for Food Processing and Biotechnology, and Prikka learning restaurant of Food and Hospitality.
Mrs. Terhi Junkkari, Dean of School of Food and Agriculture presented also SeAMK in numbers and other education. This was followed by deeper sight of R&D activities in the Frami Campus and research community in agri-food by Mrs. Sanna Kankaanpää and Mrs. Anu Portti, project manager from SeAMK. They introduced the background of the cooperation and AB Seinäjoki ERDF cooperation project. We also met other R&D actors in the Campus: in the University Consortium of Seinäjoki we talked with Mr. Juha Alarinta and Mr. Sami Kurki from University of Helsinki, Ruralia-institute. Also Mrs. Merja Högnäsbacka presented shortly the activities of Natural Resources Finland (LUKE). All organisations are important and support each other's work in agri-food sector R&D in the region.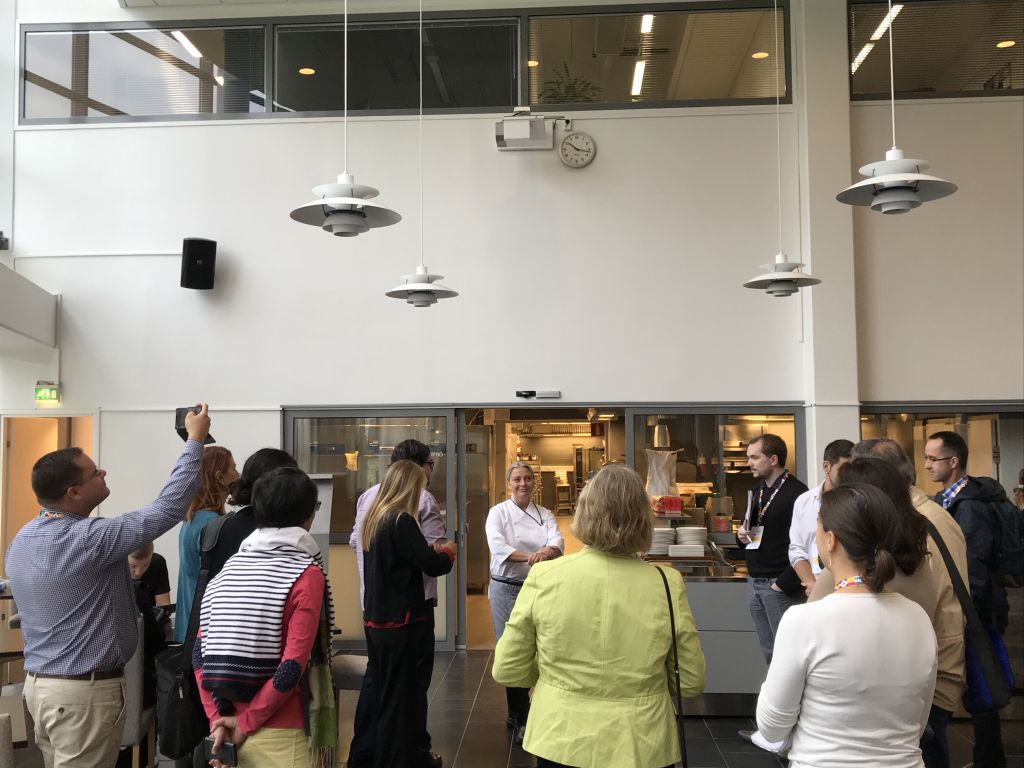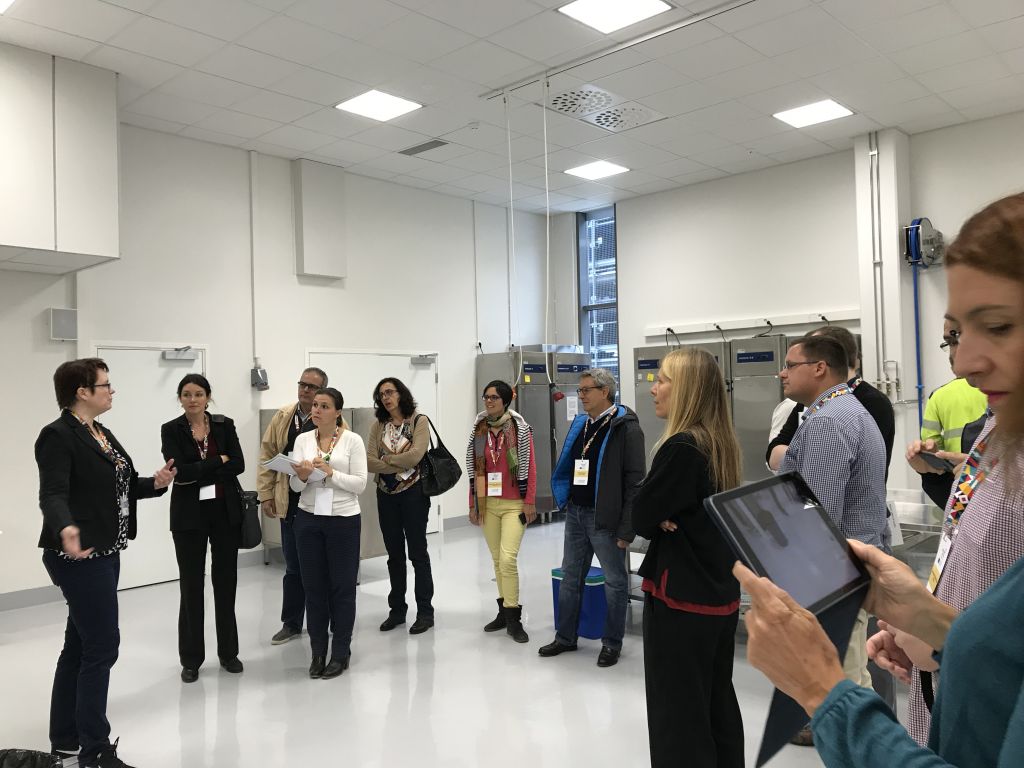 Since all these actors are in the same campus area Frami, it was easy to walk and say hello also at the Regional Council of South Ostrobothnia, where the project partners were welcomed to South Ostrobothnia by Mr. Antti Saartenoja, Planning Director of Regional Council. He emphasized the importance of interregional cooperation and learning from each other.
Target solutions of digitalization in the food sector
After lunch we had a couple more presentations at the campus:
Mr. Jaakko Koskenkorva presented GP ResQ Club mobile app, which is a user-friendly app for restaurants to sell their surplus food to interested consumers in a lower price. This is very easy way to use digitalization to reduce food waste and make the food value chain more sustainable. ResQ Club keeps eyes open for new cities, and Regions4Food partners could be interested in encouraging their actors to this direction of utilizing digitalization.
Next GP was REKO local food market with digital ordering system. Mrs. Hannele Suvanto, who is a local producer and researcher, presented this retail and distribution model, which operates via Facebook. REKO offers customers a way of ordering products directly from the producer, and brings local food producers to food markets, that would not exist otherwise. Pre-ordered products and specific timescale makes this possible even in harsher weather conditions. REKO model is easily implementable to different regions, although funding in the beginning helps.
We also got a video-glimpse of Logmore QR data logger for traceability and food safety in storage and transportation. This is a new, award-winning technology to ensure e.g. the cold chain, and very interesting digital solution for developing actions in food value chains.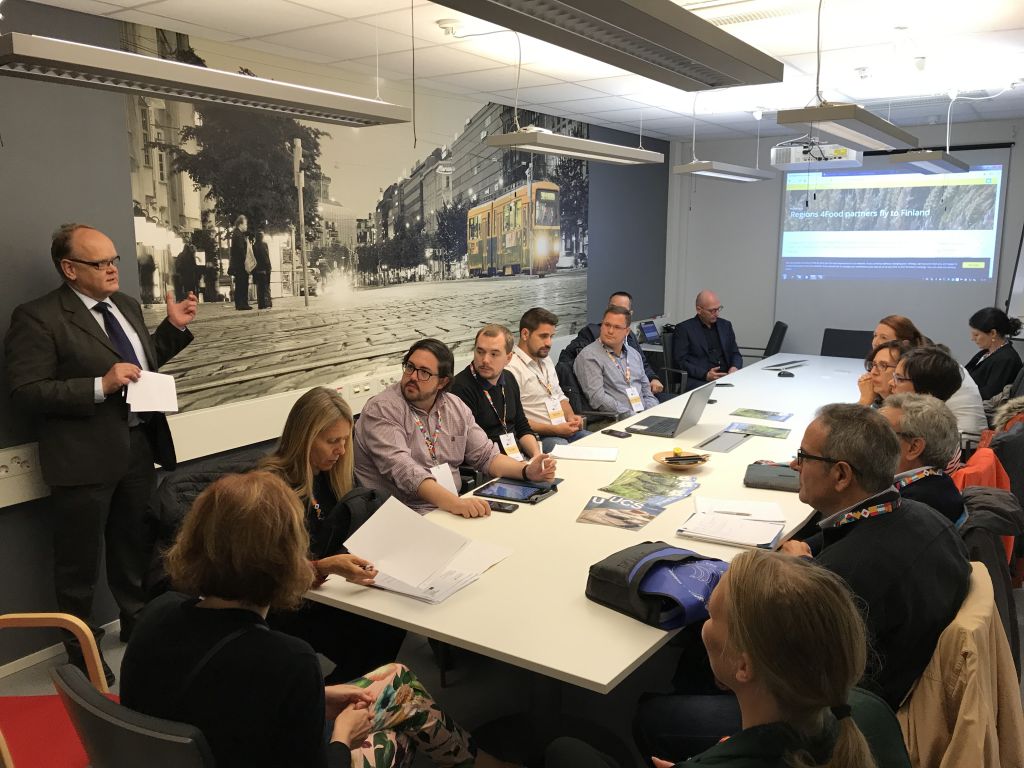 Utilizing data in animal welfare verification and tracking
Last but certainly not the least we had the presentations of one of the key strengths in the food sector in South Ostrobothnia: Utilizing data in animal welfare verification and tracking. Mrs. Ina Toppari, executive director of ETT Animal Health presented Case Sikava. Sikava is a national quality system for animal health in pork production, and similar is available for beef/milk production as well. The program collects data from the farmers, veterinarians and slaughterhouses, and ensures for example high standards of national quality scheme.
Connected to the same GP, the last presentation of the day was a site visit to Atria, a Finnish meat company with farm level traceability. Mrs. Seija Pihlajaviita, Quality director of Atria presented the company and the idea of farm level traceability as well as the antibiotic-free production concept. Digitalisation is an important enabler for both of these, but it also requires lots of passion, will, hard work and cooperation in the food value chain to produce the cleanest food in the world.
The first day ended to a local and wild food dinner by restaurant Juurella, which we enjoyed in the forest with stakeholders in a nice, warm atmosphere around fire.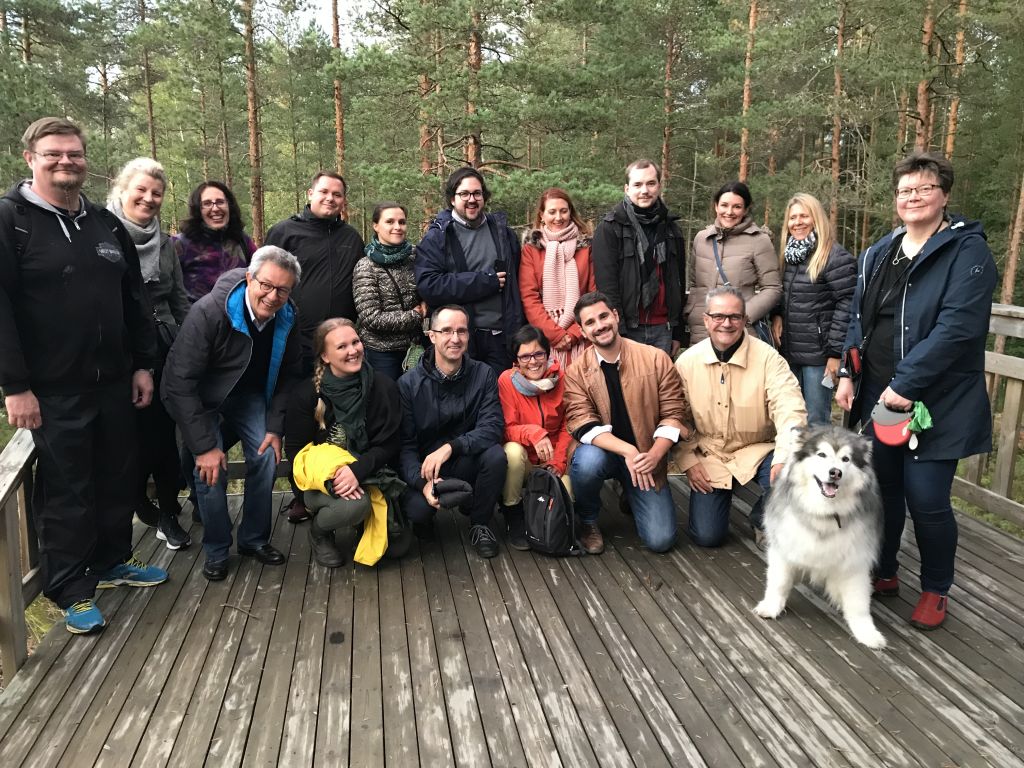 The second day of the study visit started with a bus trip through Finnish countryside to visit Honkajoki Ltd. This was also related to GP of utilizing data in animal production. Production director Mr. Matti Lehtinen presented Honkajoki, which is Finland's leading processor of animal by-products, that they manufacture and refine into high-quality, clean and safe raw materials for circular economy. Processes are highly digitized, and the company is very interested in R&D cooperation. Possibility for a new initiative under the Big Data & Traceability platform was brought up for interested parties. We hope to continue discussions about this in Pazardzhik in November.
Last visit was to an advanced dairy farm Finnmilk. Mr. Ari Teppo, co-owner of the biggest dairy company of Finland with 600 cows presented their way of working and utilizing digitalisation. He emphasized the importance of the knowledge the farmer himself needs in analyzing data and utilizing it as well as possible. Finnmilk has a big milking robot carousel that milks ca. 85 cows per hour, making it possible for people to focus in the wellbeing of the animals – based also on data that is collected in this modern farm.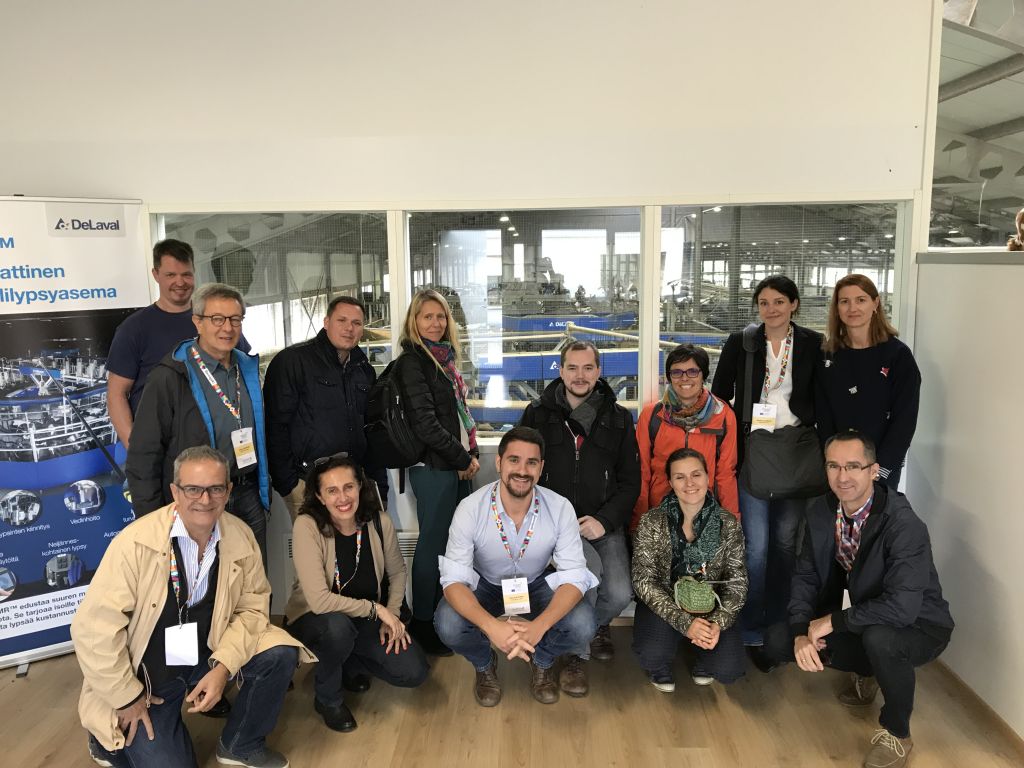 On Friday afternoon it was time to say good bye and see you soon, as the partners started their way home. As organizers we of course wish that everyone found interesting GP's and learned something new to take home and implement in the future. The process continues in project level with the next study visits at each partner. Main themes of the study visit in South Ostrobothnia were in cooperation and utilizing data. It's good to continue from here.
Soila Huhtaluhta, Regional project coordinator, South Ostrobothnia, SeAMK Food and Agriculture